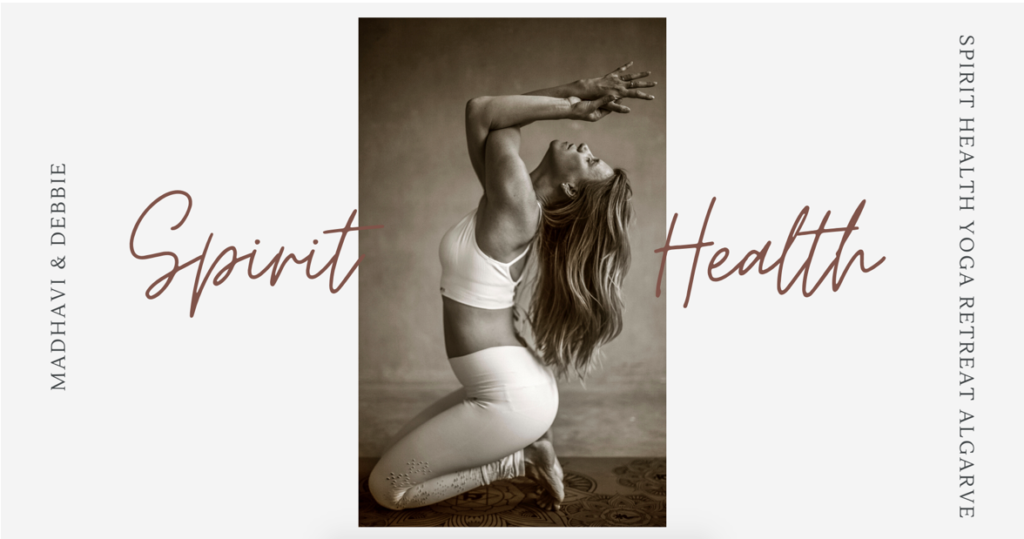 SPIRIT HEALTH RETREAT
27 th to 31st May 2021
hosted by Madhavi Ehrhardt & Debbie Jongejan
*For Women Only*
We´ll hold our Retreat in the Algarve in a Natural Park near famous Coast of Aljezur – a 20ha offgrid brand new eco-retreat centre. A perfect place for being in touch with your peace & inner wealth & health.
Madhavi & Debbie will come down from the seat of a teacher, being part of this beautiful circle of women. They deeply understand from experience as mothers & entrepeneurs that we are all women going through different stages in life. Sometimes a 'time out' seems so far away. Getting a like-minded group of women together that seriously like to invest & retreat to realize via daily dialogue about the philosophy of life & the self.
Where the heart is full the cup is waiting to be shared..Madhavi & Debbie have walked many years a path of self realization that offered by their spiritual teachers with a stable daily meditation & yoga asana practice. They share ancient wisdom from the Yoga Philosophy, in a down to earth way, that can easily be implemented into your daily life. Long refreshing beachwalks along the ancient coast lines of Monte Clerigo and going off the beaten track into the famous trails of Costa Vicentina Natural Park. And of course we didn't leave out the food. You will be treated and inspired by the amazing local cook Ana. She will cook 3 vegan meals a day to keep us vibrating and healthy.
We aim to give you a backpack full of inspiration for a yoga way of living!
Teachers:
Madhavi & Debbie met 7 years ago at the Yoga conference in Munich. Over years they have shared many deep realizations on motherhood, setting up their own individual business and about their relationships, this with many laughters and tears on all topics. Always highlighting the best qualities of the other in the end of every conversation to summarize and remind the other we are spirit souls living in a demanding material world. They started to dream about hosting a retreat to empower other woman on living a more simple life with this higher conscious way of thinking.

Madhavi lives in Ingolstadt/Germany with her husband and two kids. She practices Bhakti Yoga for almost 15 years which includes Mantra recitation and singing, vedic philosophy and lifestyle. She is teaching Harmonium and Mantra in private classes and workshops on a regular basis. For the last 4 years she loves and shares doTERRA essentials oils professionally.
At the retreat Madhavi will lead daily Mantra Meditation and she´ll share her experience and knowledge about the healing power of essential oils and how they can bring balance and healing for body, mind and spirit.
Debbie is building a retreat centre / permacultural farm in Algarve together with her husband and daughter Jeya. She is also founder of OHMat and Yoga teacher for many years. She has been teaching in Holland, Bali and now in Algarve. Her teachings are gentle in a Hatha flow with much attention to the subbtle energy and inner peace. Just like Madhavi she practices Bhakti yoga for 7 years. She will bring the teachings of the asanas & guide the circle ceremonies in a dialogue, aiming to bring the uniqueness of every person on the retreat outward through Yoga philosophy, reading together from Bhagavad Gita & using day to day situations that we all go through.
Our Vegan cook Ana
Ana is a gorgeous local young woman. She is a plant-based chef with her own local guesthouse. She just recently came back from Bali studying in Ubud. Ana's plantbased food is made with a heart of sincere love for cooking and mother Earth. She can cook macrobiotic, vegan and makes her own vegan cheese too.
We can't wait to enjoy the local, seasonal & organic meals, 3 times/daily* Just lets us know if you have any specific diet prior to the retreat.
How does a average day with us look like:
7am Yoga asana include meditation, pranayama & asanas by Debbie
9 am Breakfast
10 am Yoga Philosophy circle ceremony talks 12.30am Lunch
Afternoon Workshop/ (beach) nature walks/ journaling/ trip to town /unwind..
5pm Yin yoga by Debbie
6.30pm Dinner
7:30pm Meditative group chanting guided by Madhavi on Harmonium
Arrival & Departure Times:
Wednesday, 14th of October in the afternoon- Welcome Session before Dinner.
Sunday, 18th of oct departure after Lunch/ when needed.


Retreat includes:
– 2x daily yoga- morning yang/ afternoon yin (total 14 hrs of asana practice)
– Daily evening chanting before going to sleep (min. 5 hours chanting)
– Workshop on the lifestyle with doTERRA essential oils given by Madhavi
– Talks about Bhagavad Gita, the science of yoga in your daily life (min 3 hours)
– Reading together from the same Bhagavad Gita that will be provided on the first day
– Experiencing offgrid rural living in a luxury setting
– Daily sharing and caring in ceremony circle
– 3 shared meals a day, including tea water and fruits – Beach- & Nature walks
Facility & Accomodation:
The retreat center is a family run project that was born out of the desire to live in harmony with nature and with ourselves. Nestled in 20 hectares of native woodland and off the grid, we aim to provide a beautiful and inspiring stay in nature, far from the busy pace of modern life.
Motivated by our own life experiences, we host holistic, educational retreats and courses; and we promote a conscious lifestyle. We are situated in the countryside of Aljezur, Portugal. A short drive away from the breathtaking, unspoiled beaches of Southwest Algarve and the famous trails of Costa Vicentina Natural Park..The hill top accommodation is a newly build Portuguese style country house that overlooks the green forest. And just by sitting on the deck chairs of your wooden veranda decorated with jasmin white flowers, you feel directly the positive effect of being in nature. There is no escape from the serenity and purity that is visual in nature and felt by the Algarve Sun, the chanting birds and a smell of wild herbs that is so unique to this area. October in Algarve feels like a warm Spring compared to the upper part of Europe.


Yoga Shala:
The yoga studio or "Gaia Shala" is a natural, organic clay/wood construction, situated in a magical window view at native old cork trees, which makes it a very special place to practice.
Rooms:
The guesthouse has 4 double and 2 triple rooms & can host up to 14 people.
All rooms have en-suite bathroom, independent entrance and glass door to veranda with beautiful views. All is build in 2019 and styled in a neutral organic way with white sheets.

Investment:
Double room € 699 // Triple room € 599
We ask a non-refundable deposit of €250,- (in case of cancellation from our side due to Covid 19, we guarantee a 100% money back guarantee)
How to get there:
You rent a car at the airport which this is very cheap in Portugal. (Aprox € 8,- per day) Makes sure you also book an insurance because the car will drive into the rural life of the Algarve. Its an one hour drive. Debbie will whatsapp you the google map directions before boarding your flight. Your 3/4g phone is working in Portugal and no extra cost for roaming within EU. Car rental is not included in the retreat price. Driving in Portugal is very safe and easy.
Not Included in the retreat:
– flights
– airport pickup – we highly recommend (shared) car-rental
– things outside our daily offered program
Travel Cancelation Insurance:
No one books a flight with the intention of cancelling or postponing, but unexpected things do happen. We therefore strongly recommend you to purchase travel cancelation insurance. Exceptions to our policy cannot be made for any reason.
Register: Sent an email to Debbie to sign up with your preferences of bedroom via info@ohmat.nl. You will get a reply within 24 hours. Or WhatsApp Debbie if you have any questions on +31629404163. To get to Debbie´s Homepage click HERE!